Shiandu "Virus" Nikune
Biographical Information
Introduced

August, 2011

Birthdate

May 7th, 1998

Gender

Female

Age

14

Height

5'5"

Weight

125

Technical Information
Series type

Killer UTAU

Series no.

5206

Chara item

Pina Colada

Voice

Creator's

Additional Information
Creator

Stevie the Insane Dinosaur (Glynnis)
Virus Nikune
Virus is a 14-YR-OLD Killer UTAU. Her real name is Shiandu. She has 2 sisters and 2 brothers. She has a twin brother named Malware. She is a middle child.
Design
Hair: Orange
Skin: Pale
Eyes: Bright Orange
Outfit (Regular): Black Hoody, Black Ripped Jeans, Gray T-Shirt, Black Converse, Black Wire-Frame Glasses
Outfit (Ultra): Black Fedora, Orange Bow, Black Musician Coat, Gray Under Shirt, Black Slacks, Orange High Heels, Black Wire-Frame Glasses
Hidden Features: Orange Neko Ears & Tail
Personality
Slightly Tsundere, Humorous, Easily Annoyed, Evil, Quiet, Sarcastic
Biography
Virus is the end result of a years of work for a Vocaloid OC, Shiandu Nikune. She been through countless changes before she was settled as Virus the Killer UTAU.
Voice configuration
Virus' voice is simply he creator's voiced, slightly edited with Audacity using Echo and Reverb effects.
Notable media
Virus' first released song is going to be her cover of Matryoshka with her twin, Malware, as her duet partner.
Additional info
Relationships
Twin Brother: Malware
Younger Sister: Anti-Virus
Older Brother: Hacker
Older Sister: BlueScreen
Best Friend: Yumeno Suta Kurai
First Real Love: Asura Ikishi - Kishin UTAULOID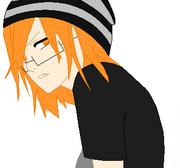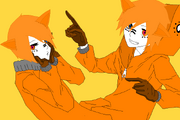 Ad blocker interference detected!
Wikia is a free-to-use site that makes money from advertising. We have a modified experience for viewers using ad blockers

Wikia is not accessible if you've made further modifications. Remove the custom ad blocker rule(s) and the page will load as expected.