Teiko Naara Shion
Biographical Information
Gender

Female

Age

17

Height

4'11"

Weight

42.3 kg

Alias

The Possessed Sweet Girl

Technical Information
Chara item

Two Swords, Fruit Salad

Voice

Taikos, high pitched

Opt genre

Fanloid

Additional Information
Creator

NotSoSuperx3 on DeviantArt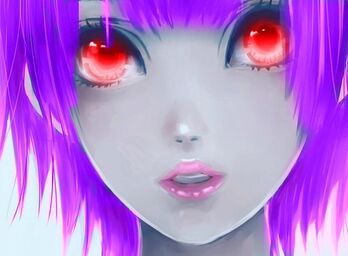 About Teiko
Her name Teiko means "Upright Child" in Japanese, while Naara means "Girl" in Hebrew
Her parents are Kiku Juon and Shion Taito, who are which both Yandere.
Her personality is like a mixed of both Kiku and Taito, She literally sensitive and when she likes someone, she stalks that person, which is common, although she is quiet and shy, which she got from Taito,.
When she was born, she was showered with love and affection, and when she doesn't get that from someone she feels close to, she becomes very violent.  
She lived a rather sheltered life as a kid, she didn't like to go out and play, or make new friends because she was afraid that people would judge her since her eyes were dark red, and her hair was bright purple. She didn't look like a normal child. Her parents decided to help her make new friends by enlisting her into public school, rather than private schools that they have been in. After doing so, she made plenty of friends, however, she didn't talk much. Everyone seemed to cling to her because she was so cute.  
She loves attention, and enjoys many cute things, such as kittens, and smaller rodents such as guinea pigs and teddy bear hamsters. Her favorite color is Wine, which her whole room is that color.   
Her items are the two tantos, which she inherited the ability of double sword wielding from her mother.  
Her favorite food is a fruit salad.
Her best friend is her younger brother, Ichigo Etsuko Shion.
On a normal day, she is usually in her room either drawing and sculpting, or making music just like her parents.
Appearance
Her lavender hair was inherited from her father, Taito Shion, whereas her eyes were inherited from her mother, Kiku Juon. She's roughly 5 foot, which makes her a little taller than the average 17 year old Fanloid.
She's thin, weighing about 95 pounds.
Her favorite piece of clothing is her black headphones that she usually wears around her neck, unless she's in pictures.
Voice
Her voice is pitched upwards from Kaiko, and she has the highest voice in the family of Shions.
Relationships
Kiku Juon - Mother
Taito Shion - Father
Ichigo Etsuko Shion - Brother
Taiko Shion - Favorite Aunt
Zeito Shion - Favorite Uncle
Kaito Shion - Least Favorite Uncle
Akaiko Shion - Least Favorite Aunt
Additional Information
Contact NotSoSuperx3 on deviantArt for more information about her two original characters, Ichigo, and Teiko.
((Wait, what? Self-advertising..? ._.'))
Ad blocker interference detected!
Wikia is a free-to-use site that makes money from advertising. We have a modified experience for viewers using ad blockers

Wikia is not accessible if you've made further modifications. Remove the custom ad blocker rule(s) and the page will load as expected.