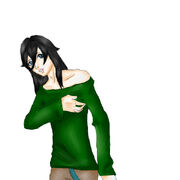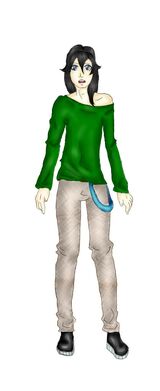 Design
Sin has black hair and big dark-blue eyes. He dressed in a green blouse with open shoulders, taupe jeans with blue galluses and black heels shoes with gray-blue sole.
Personality
Sin exorcist and because of his work has many phobias. For example, a phobia of darkness and loneliness. He is obsessed with her ​​figure and almost sick with anorexia.
Biography
Shin received the label of demon-possessed father in six years, and then began to see demons and was forced to become an exorcist.
Voice configuration
His voice based on voice SeeU, with parameters 77, 80, -55, 50.
Songs
Ad blocker interference detected!
Wikia is a free-to-use site that makes money from advertising. We have a modified experience for viewers using ad blockers

Wikia is not accessible if you've made further modifications. Remove the custom ad blocker rule(s) and the page will load as expected.