Revilo
Biographical Information
Introduced

[Jan] 8, 2013

Birthdate

January 8

Gender

Male

Age

13

Technical Information
Chara item

Orange cat named 'Thomas'

Voice

Oliver

Additional Information
Creator

Joyokii

Illustrator

Joyokii

Affiliation

List connections to character here
Revilo, Revilo is a fanmade yandereloid based on the Vocaloid Oliver. His name is 'Oliver' flipped around, he also get his name from revile .
Design
Revilo wears a dark grey jacket like Oliver's with black shorts and a white shirt under neath, usually alined with red, yet his hair has been seen as purple or black.  
Personality
Revilo is portrayed as being a Yandere by a lot of fans or seen as a 'mirror' Oliver. Being the 'darker' or 'insane' counter part to the Vocaloid. Usually seen as being sadistic and cruel, Revilo is known to be somewhat unpredictable and a bad influence on other younger voice synthesizers.
Biography
Voice configuration
Notable media
Additional info
Relationships
Revilo isn't too close to anyone, but many do think he would be close to Oliver , that being a love interest, a bully or just a friend is unsaid. 
Appearances
Trivia
Revilo's cat is named "Thomas", dubbed by his fans.
Gallery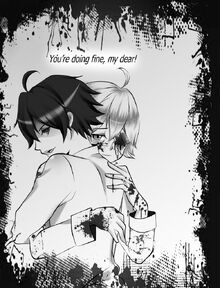 External links
[Place link here] Place title here
More links(?)
Ad blocker interference detected!
Wikia is a free-to-use site that makes money from advertising. We have a modified experience for viewers using ad blockers

Wikia is not accessible if you've made further modifications. Remove the custom ad blocker rule(s) and the page will load as expected.