→ This Article is about Mokaito's fan-given surname. For other similarly-named characters, You may be looking for "Shion"
Mokaito
モカイト
Biographical Information
Introduced

April 1, 2008

Gender

Male

Alias

MoKAITO, Mo-KAITO, MoKaito, MOkaito
Shion Mokaito
Mokaito Shion (western order)
始音モカイト

Technical Information
Series type
Additional Information
Creator

K- kei (K-ケイ)

Illustrator

K- kei

Affiliation

Kaito (derived)
Mokaito is a brown themed derivative of the official Vocaloid Kaito. His name is a combination of "Kaito" and "Moka", which is to pun "mo·cha", meaning 'dark brown color' or in reference to coffee.
Design
Mokaito appears to have a more mature look when compared to Kaito. It is only assumed that his clothing is similar to Kaito and simply done in brown and white.
Personality
He is a polite and patient big brother type character. Even if he is angered he will speak in a gentle tone.
Biography
Mokaito exists as one of many Shion derivatives. According to his stats, he likes to drink Café au lait and enjoys coffee and chocolates. He does not seem to like iced coco or cold foods.
Sadly, this character is not as well-known.
Voice configuration
There is currently no configuration for this character.
Notable media
There is currently no media for this character.
Additional info
Relationships
Very close to nigaito shion
Appearances
Artwork

Search Mokaito on deviantArt Pixiv Piapro
Trivia
It appears Mokaito is one of the lesser known Shion derivatives of the fandom, regardless of his early introduction.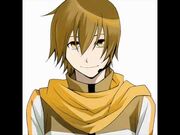 Gallery
External links