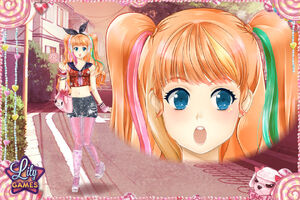 Name : Miori Kanohara (美織Kanohara)
Age : 17 years old
Gender: Female ♀
Height: 5'6.3
Weight: 39.8 kg
Series type:
Series no.: 23
Chara item:
Voice:
Creator: _unknown_
Illustrator: _unknown_
Design
Personality
She is deredere, himedere, sweet, friendly, kind, caring, and happy.
Biography
Voice Configuration
Notable media
Relationships
Trivia
Extra links
All the credits goes to the Creator and Illust.
Ad blocker interference detected!
Wikia is a free-to-use site that makes money from advertising. We have a modified experience for viewers using ad blockers

Wikia is not accessible if you've made further modifications. Remove the custom ad blocker rule(s) and the page will load as expected.