Hairaito Shion
ハイライト 始音
Biographical Information
Introduced

April 1, 2012

Birthdate

April 1

Gender

Male

Age

17

Height

5'5

Weight

150

Technical Information
Series type
Chara item

Thin-rimmed Glasses

Voice

Kaito in low-pitch

Additional Information
Creator

LynnMataka(youtube)(user:Hairaito-Shion)

Affiliation

Kaito Shion - Brother, alter-ego
Hairaito is a black and gray themed derivative of the official Vocaloid Kaito. His name is a combination of "Kaito" and "Haiiro". The meaning of the Romaji Haiiro is Gray.
Created by LynnMataka(youtube), LynnMataka(Deviant Art), Hairaito-Shion(Deviant Art), Hairaito-Shion(Wikia). ((All the same person, of course.))
Design
Hairaito always wears a pair of thin-framed glasses. He has rather pale skin. He wears a modified version of Kaito's coat. A black coat with gray highlights and a dark gray scarf.
Personality
Hairaito is very cheerful and giggly, though very...VERY...easy to scare and tease. He looks older than he acts. And for a scaredy-cat, he actually prefers his brother Kyukaito, since he's usually very kind to him. He has occasionally been mistaken for a child, seeing as how innocent and childish he acts, despite being 17. He's said to be fluent in both Japanese and English.
Biography
Hairaito is the cheerful, childish, scaredy-cat, innocent alter-ego of Kaito. Because he is easy to frighten, most people think he's a child, when really he is 17 years old. Most find him adorable for his childishness and innocence, seeing as how most of the time he doesn't know any better about anything. Hairaito is scared of - being left alone, the dark, strangers, and being hugged without warning. He hates seeing his brothers hurt, so when Taito hurts himself he tends to leave bandages nearby even if he doesn't talk to him, or if Taito doesn't even use them. He's also become curious about his older brother Kyukaito, seeing as how Kyukaito is a vampire, Hairaito is usually frightened, but he treats Hairaito kindly so he likes him.
Voice configuration
Kaito Shion's voicebank slightly toned down in pitch. See -this page- to listen.
Notable media
  Good Night Lullaby For My Master

Author(s)
lynnmataka
Category
Repitched song
Additional info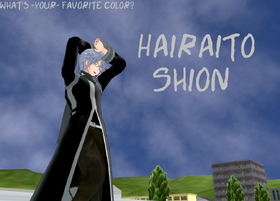 Relationships
Appearances
Artwork

Search Hairaito on deviantArt
Media

Search Hairaito on YouTube
Trivia
Hairaito is an example of a "Pitchloid"
Gallery
External links