→ This Article is about Miku Hachune. For other similarly-named characters, You may be looking for "Miku_(disambig)"
Hachune Miku
はちゅねミク
Biographical Information
Introduced

September 4, 2007

Gender

Female

Age

Error ⊂(゚Д゚)

Height

Error ⊂(゚Д゚)

Weight

Error ⊂(゚Д゚)

Alias

Miku Hachune
(western order)

Technical Information
Series type
Series no.

01

Chara item

Negi (spring onion)

Voice

Hatsune Miku

Opt genre

Pop

Additional Information
Creator

Tamago (たまご)
Otomania (おとまにあ)
(movie edit)

Illustrator

Tamago

Affiliation

Crypton Future Media, SEGA, Hatsune Miku (derived)
Hachune Miku is an officially recognized derivative of Vocaloid Hatsune Miku, she is acknowledged by Crypton Future Media, the publisher of the Character Vocal Series for Vocaloid 2, for commercial use. Hachune (はちゅね) is a mispronunciation of Hatsune (はつおと), which shows her childishness and generally silly disposition. Often seen in videos as a blank-eyed doll-like figure with a gaping mouth.
Design
Hachune Miku's design is directly based on Hatsune Miku, a Vocaloid 2 developed and distributed by Crypton Future Media, Hachune Miku is drawn in a SD-style (Super Deformed). The notable differences is her blank eyes, gaping mouth, and swirly pink cheek marks. On her left upper arm is the red mark "01", which is Hatsune Miku's series number. She is shown to be carrying around a welsh spring onion, negi (葱) in Japanese. Despite fan belief, she and Hatsune are not actually holding a leeks, this incorrect information came from the result of the popular flash animation known as "Leekspin".
Personality
Her personality does not appear to be defined by her original creators, instead the fandom displays her personality has being a silly chibi character who does random actions.
Biography
Source: Vocaloid Wiki
Hachune Miku was created by Otomania (video) and Tamago (picture) and established via Hatsune Miku's version of Loituma Girl internet meme, eventually going on to becoming its own character. Hachune Miku is acknowledged as one of the first mascots to gain popularity within the Vocaloid fandom. It is Hachune's presence that is responsible for the start of the Item War system that eventually began dying out with entry of Tako Luka later on.[1] Her staying power resulted in being recognized by Crypton who adopted other derivatives such as: Sakine Meiko, Akita Neru, Yowane Haku, and Tako Luka.[2]
Voice portrayals
In music videos and songs that have a singing voice in them, the voice is more of a representation of Hachune Miku, rather than her actual voice. She is regarded a silent mascot by the fandom so depictions of Hachune with a voice is seldom done. However, her voice can be heard in Project DIVA extend's opening (the version with voices).
This example of configuration on the Fanloid wikia is a user contribution, and thus, should not be viewed as being widely accepted or acknowledged by the character's creator.
Voice configuration
Configuration: Hatsune Miku

 EXPLAINED:
narutofreek123 made a voice configuration for Hachune, yet still could be edited, that works well with her.
 TECHNICAL INFORMATION
BREATHINESS (BRE)
-20
BRIGHTNESS (BRI)
11
CLEARNESS (CLE)
22
GENDER FACTOR (GEN)
-40
OPENING (OPE)
10
 SPECIAL NOTES:
Hachune Miku's voice is supposed to sound kind of chibi (small).
Notable media
  Ievan Polkka

Romaji/English
Eva's Polka
Featuring
Hatsune Miku
Category
Cover song
  おなかすいたうた

Romaji/English
Onaka Suita Uta (Song of I'm Hungry)
Featuring
Hatsune Miku
Category
Cover song, parody
Additional info
Media trivia
Eva's Polka
Originally sung by Loituma, a Finnish quartet. Eino Kettunen is the original author. This is the first video of Hachune Miku (when this video was uploaded, the name of "Hachune Miku" was not decided). And it is the video which made Hatsune Miku world-famous. In addition, the fanmade setting (idea) of "Vocaloids have items" and "Hatsune Miku's item is a leek" came from this video. It got more than 2,000,000 view counts in NND.
Song of I'm Hungry
The Tower of Druaga, a video game BGM. Junko Ozawa is the original author. This is the 3rd biggest hit song (900,000 view counts in NND) of Hachune Miku in NND. It is a parody of video game, The Tower of Druaga. In this parody, Hachune is very hungry.
The song also has a MMD PV, Song of I'm Hungry (remake) where Hachune dances in front the Start Menu as shows the different dishes that she names in the song.
Relationships
Her relationship with Hatsune Miku appears to simply be a mascot. In Project Diva she is shown to have multiple clones that help Miku in the music studio.
Appearances
Artwork & Related content

Search Hachune Miku on deviantART Pixiv PiaPro
MikuMikuDance (MMD), 3D software

Search for Hachune Miku models on MikuMikuDance wiki
An MMD model of Hachune Miku was created in March 2009 by modeler Enamel. See the Miku Hachune (Enamel) page for details.
Maker Hikōshiki Hatsune Mix, manga

Hachune Miku often appears out of nowhere making cameos, upsetting the main characters and generally getting herself into trouble. She appears in chapter 2 and chapter 3.
Hachune Miku no Nichijō Roipara!, manga

A manga drawn by Ontama began serialization in the manga magazine Comp Ace on December 26, 2007.[3]
Project Diva (PD), game

Hachune Miku makes a playable cameo in the PSP game, Hatsune Miku ~Project Diva~ and again as a playable character in its sequels (end credits only).
Fanmade Promotional Videos (PV)

Hachune Miku is commonly seen in fanmade videos relating to her debut, she is also used simply for background dancing.
Merchandise

Official licensed Hachune Miku merchandise has been produced, such as Nendoroid Puchi and plush toys, key chains etc. The Hatsune Miku Nendoroid figure that comes with a face representing Hachune, while a limited edition Nendoroid of Hachune was also produced by the Good Smile company at the Wonfest 2008 Summer fair.
Gallery
Note; this is not a gallery for every fanart out there, just for reference
Hachune Miku in her default state
Hachune Miku's silly face by Tamago
Hachune Miku, sleepy by Tamago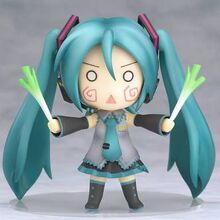 References
External links
 W 
The content of this page is copied from another source and presented on Fanloid Wiki. The content has been adjust accordingly to fit Fanloid Wiki 'Manual of Style'.
The original is located here. Note, any recent updates to the original may not have been duplicated here.
 W 
Ad blocker interference detected!
Wikia is a free-to-use site that makes money from advertising. We have a modified experience for viewers using ad blockers

Wikia is not accessible if you've made further modifications. Remove the custom ad blocker rule(s) and the page will load as expected.