| | | |
| --- | --- | --- |
| [[File:[IMG][/IMG][/URL]|100px]] | | Ang.El |

NAME INTERPRETATION:
Angel
SERIES TYPE: Pitchloid/Voyakiloid
SERIES NUMBER: A.E∞
RELEASE DATE
November 26, 2013
LIKES & DISLIKES
Singing, sleeping, time, fire
BIRTHDATE
December 19
VOICE SOURCE
Gumi pitched down 2
GENDER
Female
GENRE
N/A
AGE
Around 16
MEDIA LIST
She has no media yet besides the picture above
HEIGHT
5'4"/162.56 cm
CREATOR
BooKuu/LorieSweetCrush
WEIGHT
128 lbs./58.6 kg
ILLUSTRATOR
LorieSweetCrush (DeviantART page)
CHARACTER ITEM
Clock hands
ADDITIONAL INFO: Currently unavailable.
RELATED CHARACTERS:
Design
Hair Color: Blonde with neon blue accents
Eye Color: Left gold, right turquoise
Headgear: Black and gold goggles (not visible in picture above)
Earphones: N/A
Clothing: Bright blue hoodie, black and white skinny jeans, silver belt with a 'power off' symbol, neon blue knee-high Chuck Taylors, and a transparent gold bracelet on her right wrist/forearm
Nationality/Race: American
Personality extended
Ang.El is appears to have a mood disorder, at some points believing that the world is made of butterflies and sparkles, and other times thinking that everybody hates her and that the world would be better off if a 'useless Pitchloid' like herself was erased. When she was younger she hated being alone and would begin to have a panic attack if left alone for over an hour. When she gets mad, she gets mad.
Biography
Ang.El is a Pitchloid of IA, created by BooKuu and LorieSweetCrush. Ang.El is meant to be the 'American' IA. Her voice is pitched lower than IA's.
Voice configuration
Ang.El has no voice configuration yet, so she uses IA's. Her voice is 2 pitches lower than IA's.
Notable media
Ang.El has no media besides the picture above.
Relationships extended
Ang.El is not 'romantically' involved with anyone, but she is friends with many Vocaloids and UTAUs. Her favorite Vocaloid is Megurine Luka, and her favorite UTAU is Namine Ritsu. She is also very fond of Nigaito and Kagamine Len.
Appearances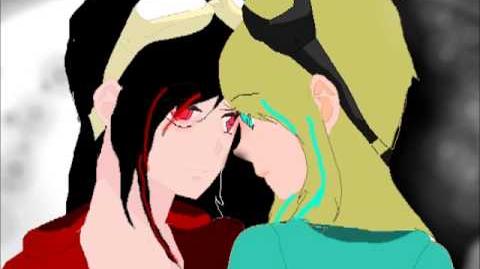 Trivia
She is meant to be the 'American' IA
Her genderbent name would most likely remain Ang.El.
She has a crush on Nigaito
Her favorite song is 'Lily Lily Burning Night' by the Vocaloid Lily
Gallery