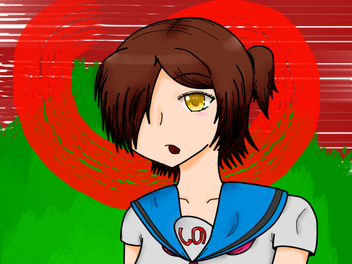 Aikurusuki Shino (あいくるすきしの - Aikurusukishino) is a Fanloid. She has no affiliation with any of the prime Vocaloids, however she sounds much like Megpoid Gumi.
Design
Shino is a 15 year old female who is 6.2 ft. tall and weighs 119.42 pounds. Her hairstyle consists of down-to-the-neck bangs with her right side of hair blocking here right eye. She also sports a small ponytail in the back tied with a black wire. Her eyes are amber yellow, and usually half open due to her constant boredom. Her Sailor Fuku consists of a blue collar with one stripe of grey on each side with a hot pink bow protruding from the bottom. She also has a piece of her shirt with her name, しの, written on it. Her shirt is very light grey (almost white) with a blue and grey skirt coming out the shirt's bottom. She wears black boots that go up to the knee with a panel saying "Code 202" on them.
Personality
She is usually bored, much like Haku or Neru. However, she doesn't do much of anything bad to anyone or anything... or at all for that matter. She mainly spends all of her time on her computer programming a lot of things, that or drawing. She also loves playing the Violin, Viola, Cello, Contrabass, or the Harpsichord mainly, however she likes orchestral procussion as well (Timpini, Cymbols, ect.).
Biography
She seems to have no family left, but she may be hiding something...
Voice configuration
VOCALOID 3 CONFIG ONLY!
Megpoid V2, Native, Adult, Whisper, Sweet, and Power
BREATHNESS 
3
BRIGHTNESS 
35
CLEARNESS 
25
GENDER FACTOR 
30
Notable media
None yet.
Additional info
Relationships
She doesn't talk to any of the Vocaloid s, or anyone for that matter, so she doesn't have any.
Appearances
Trivia
Likes - Unknown.
Dislikes - Talking.
Gallery
Ad blocker interference detected!
Wikia is a free-to-use site that makes money from advertising. We have a modified experience for viewers using ad blockers

Wikia is not accessible if you've made further modifications. Remove the custom ad blocker rule(s) and the page will load as expected.